If you're a fan of The Starlight Trilogy, you are probably aware that the lead male character, Aidan Evans, is based on actor James Dean. Here are some of my favorite Jimmy gifs. Below them, you can find exclusive excerpts from Starlight (Starlight Trilogy book #1) and Starbright (book #2).
Jimmy At the Racetrack (inspired chapter five of Starbright, Starlight Trilogy book #2)
East of Eden Wardrobe Tests (inspired the Golden Gloves wardrobe tests between Aidan Evans and Elizabeth Sutton in chapter twenty-five of Starbright)
Jimmy in East of Eden (inspired Aidan's character in Spike Rollins before he joined the street gang to raise money for his brother's life saving heart operation)
Jimmy in Rebel Without A Cause (inspired Aidan's role in Spike Rollins)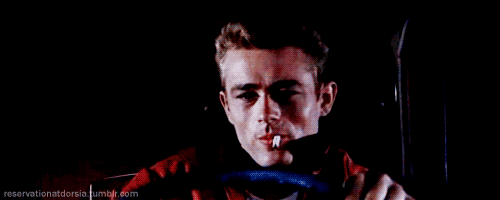 Jimmy and actor Paul Newman in a screen test for East of Eden (Just because)
Here is an exclusive excerpt from the first book in my 1950s Hollywood/romance trilogy, STARLIGHT.
Book #3, STARDUST, will be released later this spring!
Aidan cleared his throat. "Beth?"
"May I place a kiss on your cheek?"
"A kiss?" Heat fanned across her face. "Why, yes. I'd . . . I'd like that very much."
"I'm sorry I'm asking you in my car—"
"I don't mind. Honest." Her blush deepened.
Aidan draped his arm over her seat and moved closer . . . closer. Then, finally, his lips were near hers. "I had a wonderful time with you today."
"Me, too." Beth closed her eyes.
Aidan pressed his lips to her cheek, followed by her jaw, stirring something intensely pleasurable deep inside her, which she'd never felt previously. It drilled into her very being, transforming her longing for him into something so fierce she thought she'd cease living if he didn't give her what she wanted immediately.
Beth took in a sharp breath as he moved lower . . . lower. When his lips met her neck, desire rippled from her head to her toes and she let out a gasp. "Oh my!"
Aidan flung back against the driver's door, his eyes wide and his hands yanking at his hair. "Beth, I'm sorry! I got carried away. Damn it. I'm so sorry . . ."
It took her a moment to realize he'd misinterpreted her response. "No, Aidan. Wait. I didn't react that way because you made me feel uncomfortable."
He dropped his hands from his hair. "Then why?"
"I, uh . . ." She lowered her gaze. "I liked what you were doing . . . a lot."
"Yes." Beth's next words were unladylike, but the absence of his lips on her skin drove her crazy. "Actually, I'd like for you to do it again. Kiss my cheek. My neck . . . That is, if you don't mind."
"Mind?" Aidan shook his head. "I'd be honored."
October 1952 finds eighteen-year-old Marie Bates relocating from her rainy hometown in the Pacific Northwest to the sun-soaked streets of Los Angeles, California. Marie's plans for a teaching career take an unexpected turn when she's asked to film a screen test at Starlight Motion Picture Studios.
Renamed Elizabeth Sutton by the studio heads, she lands her first role as an extra. On set, Beth spies Aidan Evans, a rebellious, twenty-three-year-old Method actor from New York. Aidan is branded as a stuck-up troublemaker by his famous Hollywood peers, but Beth suspects a tragic secret lurks behind his steely facade.
As their careers hit the fast track and friendship evolves into romance, the expectations of Hollywood stardom threaten to shine a spotlight on Aidan's dark past before he can make peace with it. Beth must help Aidan confront the painful event that shattered his life and conquer a terrifying truth before it destroys him and their future together.
Starlight is the first book in The Starlight Trilogy, a story of love and redemption set against the backdrop of the final years of Hollywood's Golden Age.
Starlight is the first book in The Starlight Trilogy, a story of love and redemption set against the backdrop of the final years of Hollywood's Golden Age.
Five Reasons To Read The Starlight Trilogy:
1. A sweeping technicolor tale of forbidden romance.
2. A detailed homage to the Golden Age of Hollywood cinema.
3. Cameos from many of your favorite classic film stars.
4. Transformation of a small town girl to silver screen starlet through Hollywood's unforgiving lens.
5. Close-up of a 1950s bad boy channeling a tragic past and the stress of sudden super stardom through the art of Method acting.
_____________________________
Here is an exclusive excerpt from STARBRIGHT (The Starlight Trilogy book #2).
Stardust (book #3) will be out later this spring!
The door opened and Aidan emerged from the bathroom, vigorously rubbing his hair with a towel. He wore navy blue briefs and a white T-shirt that hugged him across his chest and shoulders.
With the setting of the sun, darkness shrouded the room except for the soft light from the table lamp, lending him an ethereal glow. He looked like a powerful blend of runway model and unadulterated male. Her imagination couldn't have constructed a more handsome man.
Any apprehension Beth had about her appearance vanished when Aidan spotted her on the bed. He didn't say a word, but the truth sparked in his eyes. They consumed her ravenously, as if one good look wasn't nearly enough.
He cleared his throat, though his voice sounded no less rough because of it. "Please stand up so I can see you properly."
Beth tried to breathe normally, but it was impossible. She slid across the mattress, feeling a heightened awareness of every part of her body under his dedicated stare. As her bare feet met the carpet, she adjusted her nightgown. She wanted nothing more than to please him, to give him the show he craved and so much more.
"Turn around." Aidan's gentle plea was belied by the hunger in his eyes.
Beth did as he requested, receiving a sense of empowerment and pleasure that could never come from being one of the most popular actresses in the country, but only from the admiration of the man for whom she cared so deeply—the man who knew the real her, not the enhanced version created by the movie studio, and still desired her above all other women.
At the completion of her rotation, Beth made the thrilling discovery that Aidan was aroused. His erection pushed against his briefs, giving her the strongest indication yet as to how he looked beneath them. She longed to touch him like she did in the bathroom at his house, only in the flesh. And this time, she would bring him to orgasm.
Aidan set down the towel and moved toward her, his hair wild and damp, his eyes gloriously green and greedy. Beth breathed in deeply as his arms encircled her waist and he pulled her close. He smelled like lavender soap and summer rain.
"You look stunning, Beth." Aidan whispered the words, but they resonated as though he'd shouted them for the world to hear.
He leaned forward and kissed her carefully, kindling her internal flame of desire. Beth pushed her hands into his hair and pressed her lips more firmly to his, even adding a bit of tongue.
Aidan pulled back. His eyes searched hers, as if he sensed there was an additional method to her erotic madness. "Have you ever had an orgasm?"
Beth frowned. While she'd hoped that was where things would lead for both of them tonight, she wasn't expecting such a blunt question. "I told you I've never been with a man before you."
"I know." Aidan glided his hands down her back, caressing her with silk and sweetness. "What I mean is… have you ever pleasured yourself?"
Beth's eyes widened. "No, never. I was always under the impression it was inappropriate for a woman to… you know…"
The silence that greeted her was unnerving.
"Why, is that bad?" She pitched him a tentative glance.
"It's not bad." His voice sounded throatier than before.
Aidan's eyes grew darker. "I prefer that you've never had an orgasm." He leaned in until his hot breath skated across her face. "Because I want to be the one to give you your first."
Beth's flame ignited into a raging inferno.
With a hum, Aidan brushed his lips to her ear, his fingers dancing over the skin the lace of her negligee revealed. "And I would like to do it tonight. That is, if you'll award me the honor, little dove."
Beth's anxiety vanished as her desire and anticipation solidified into something so overwhelming, she couldn't dream of saying no to him.
"I'm yours, Aidan." A desperate whimper joined her reply. "Lay your hands on me… please."
For starlet Elizabeth Sutton, it's difficult to tell which has more momentum: her burgeoning film career, or the growing intimacy in her forbidden romance with notorious Hollywood outsider, Aidan Evans.
When the opportunity to costar in a feature film arrives, Beth and Aidan fight to keep their relationship out of Hollywood's rumor mill and away from the ever-watchful eyes of Starlight Studios head Luther Mertz, who condemns a union between them and threatens the future of Beth's acting career.
The pressure mounts as the cameras roll. Beth and Aidan navigate the precarious heights of superstardom while exploring their physical desires in secret. Beth grapples between the debilitating nervousness over her sexual inexperience and her unbridled need for Aidan. Meanwhile, the demons from Aidan's past he thought forever vanquished linger on the fringes of a fragile inner peace . . .
The Starlight Trilogy is a story of love and redemption set against the backdrop of the final years of Hollywood's Golden Age.